Stronghold Legends 1 Steam Edition PC Game
Stronghold Legends 1 Steam Edition Introduction:
Stronghold Legends 1 Steam Edition PC Game. Stronghold Legends 1 is an iconic real-time strategy (RTS) game that combines the elements of city-building, resource management, and tactical warfare. Developed by Firefly Studios, the game was initially released in 2006 and has since gained a dedicated following of strategy enthusiasts.
In 2021, the Steam Edition was launched, bringing improved graphics, enhanced gameplay, and compatibility with modern systems. Step into the medieval world filled with legends, mythical creatures, and epic battles in this classic installment of the Stronghold series.
You Also Like This Game :: Stronghold 2 Steam Edition PC Game Free Download
Stronghold Legends 1 Steam Edition Description:
Stronghold Legends 1 Steam Edition is set in a medieval fantasy realm, where players take on the roles of legendary heroes, mythical creatures, and powerful warlords. Each faction comes with its unique abilities, units, and gameplay mechanics, allowing players to experience the game from different perspectives.
The game follows the traditional RTS format, requiring players to manage resources, construct and upgrade buildings, recruit troops, and engage in intense combat against rival factions. The main objective is to build and defend your stronghold while expanding your territory, establishing a powerful army, and conquering enemy lands.
Stronghold Legends Steam Edition Overview:
In Stronghold Legends 1, players can choose from three distinct factions: King Arthur and his Knights of the Round Table, Count Vlad Dracul and his vampire minions, and Siegfried of Xanten and his mythical creatures. Each faction represents a unique playstyle and introduces various legendary characters and units inspired by medieval folklore and fantasy tales.
The game is divided into two main modes: the "Path of Good" and the "Path of Evil." Depending on the chosen faction, players will experience a different storyline and face varied challenges throughout the campaign. The Path of Good focuses on the classic battle between King Arthur and his Knights and the dark forces threatening the kingdom. On the other hand, the Path of Evil delves into the sinister ambitions of Count Vlad Dracul and his desire to unleash darkness upon the world.
The core gameplay mechanics are centered around managing resources like wood, stone, and gold, constructing buildings such as farms, barracks, and defensive structures, and training different types of troops like archers, knights, and dragons. Players must strategically balance their economy, military might, and diplomacy to thrive in the ever-changing world of Stronghold Legends 1.
You Also Like This Game :: Stronghold Warlords 1 PC Game Free Download
Stronghold Legends 1 Steam Edition Features:
Faction Diversity: Each faction in the game offers a distinct playstyle and unique units. King Arthur's forces emphasize chivalry and honor, vampires under Count Dracul bring dark magic and fear to the battlefield, and Siegfried's mythical creatures possess extraordinary powers.
Legendary Heroes: Stronghold Legends 1 introduces iconic characters from mythology and legends, such as King Arthur, Merlin, Vlad Dracul, and many more. These heroes provide powerful bonuses and abilities to aid players in their conquests.
Epic Campaigns: The game features extensive single-player campaigns for each faction, offering diverse missions, objectives, and challenges. Players will encounter legendary foes, participate in sieges, and embark on epic quests to save the kingdom.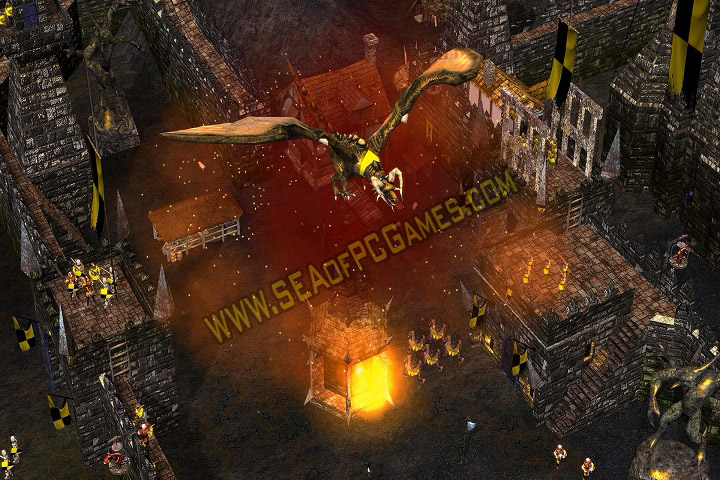 Skirmish Mode: Players can engage in custom skirmishes against AI opponents, providing endless replay ability and an opportunity to hone their strategic skills.
Multiplayer Battles: Stronghold Legends 1 Steam Edition supports multiplayer gameplay, allowing players to face off against human opponents in thrilling online battles.
Siege Warfare: Experience intense siege battles with trebuchets, battering rams, and boiling oil. Defend your stronghold against waves of enemies or lead the assault and breach enemy walls.
Magical Powers: Unleash powerful magical abilities unique to each faction, such as Merlin's healing spells, vampire transformations, and summoning mythical creatures like dragons and werewolves.
Map Editor: The game provides a map editor, allowing players to create their custom scenarios, campaigns, and challenges to share with the Stronghold Legends community.
Steam Edition Enhancements: The Steam Edition of Stronghold Legends 1 brings improved graphics, bug fixes, and optimizations for modern PC systems, ensuring a smooth and visually appealing gaming experience.
You Also Like This Game :: Stronghold 3 Gold Edition PC Game Full Setup
Stronghold Legends Steam Edition System Requirements:
To enjoy the epic medieval battles of Stronghold Legends 1 Steam Edition, your PC should meet the following minimum system requirements:
OS: Windows 7, 8, 10
Processor: Intel or AMD Dual-Core CPU
Memory: 2 GB RAM
Graphics: DirectX 9.0c-compatible, 512 MB VRAM
DirectX: Version 9.0c
Storage: 5 GB available space
Sound Card: DirectX 9.0c-compatible sound card
For an optimal experience, it is recommended to have a higher-end system with better specifications, such as a more powerful CPU, increased RAM, and a dedicated graphics card.
Click To Here Free : Download
Game Setup Size : 1.08 GB
Password : SEAofPCGames.com