Medal of Honor Allied Assault 1 PC Game
Medal of Honor Allied Assault Game Introduction
Medal of Honor: Allied Assault – Reliving World War II Heroism on Your PC. In the domain of computer games, few titles manage to capture the essence of historical events quite like "Medal of Honor: Allied Assault." Developed by 2015, Inc. and published by Electronic Arts, this first-person shooter (FPS) game was released in 2002 and soon received accolades for its immersive gameplay, dramatic presentation, and authentic reconstruction of World War II surroundings.
"Medal of Honor: Allied Assault" allows players to step into the boots of a valiant soldier and feel the intensity of the most legendary battles of the war. Let's look into the game's environment, gameplay, and features, as well as the system requirements essential to going on this epic voyage.
Medal of Honor Allied Assault Game Description
"Medal of Honor: Allied Assault" is set against the backdrop of World War II and draws its inspiration from the real-life acts of numerous Allied soldiers during the fight. The game's primary focus is on the adventures of Lieutenant Mike Powell, a fictional figure who serves in the Office of Strategic Services (OSS). The OSS was a precursor to the contemporary Central Intelligence Agency (CIA) and was responsible for intelligence and sabotage activities behind enemy lines.
You Also Like This Game :: Marine Sharpshooter 3 PC Game Full Setup
The game puts players through a series of thrilling missions that cover several regions of the war. From the traumatic beach landing at Omaha Beach during the Normandy invasion to sabotage missions in Norway, "Medal of Honor: Allied Assault" contains a wide range of situations, demonstrating the heroism and sacrifices made by soldiers during this important moment in history.
Medal of Honor Allied Assault Game Overview
"Medal of Honor: Allied Assault" introduced players to a beautifully crafted and historically accurate virtual recreation of World War II. The game's attention to detail and commitment to historical realism set it apart from other shooters of its day. The landscapes, weaponry, and costumes were all carefully reproduced to present gamers with an immersive experience that felt like stepping into the past.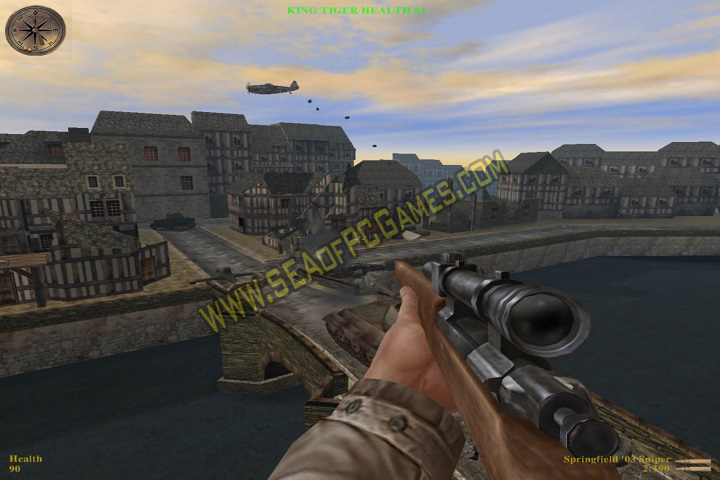 The gameplay is essentially a first-person shooter, with players adopting the role of Lieutenant Mike Powell. As Powell, players engage in a series of tasks that demand martial abilities, strategic thinking, and stealth. The different mission goals range from storming enemy positions and destroying high-value targets to infiltrating enemy bases and rescuing captured teammates. The game's dynamic AI and level design create a feeling of uncertainty and intensity, mimicking the unpredictable nature of battle.
Medal of Honor Allied Assault Game Features
1. Authentic World War II Setting
"Medal of Honor: Allied Assault" is recognized for its devotion to historical accuracy. The game's makers extensively researched the armaments, clothes, buildings, and landscapes of the World War II era to produce a completely immersive experience.
2. Varied Mission Design
The game's missions encompass a range of environments and objectives. From the lush landscapes of North Africa to the urban fighting of Italy, each mission delivers a distinct experience. This variation keeps the gameplay fresh and exciting throughout.
You Also Like This Game :: Marine Sharpshooter 2 Jungle Warfare PC Game
3. Cinematic Presentation
The game's presentation draws greatly from the cinematic approaches of the time. From dramatic camera angles to an emotive soundtrack, "Medal of Honor: Allied Assault" brings players to the center of the battle, providing an emotional connection to the characters and events.
4. Multiplayer Mode
In addition to the single-player story, the game contains a multiplayer component that allows players to engage in online combat with friends and other gamers. This mode offers a variety of maps and game modes, adding to the game's replayability.
5. Weaponry and Realism
The game contains a vast assortment of authentic World War II weapons, each with its own unique strengths and limitations. Realistic ballistics and mechanics contribute to the game's intense battle experience.
You Also Like This Game :: Delta Force 1 PC Game Full Setup
6. Sound Design
The sound design plays a key role in creating the game's mood. From the distant rumble of artillery to the clamor of gunfire, the audio aspects immerse players in the pandemonium of battle.
System Requirements
To experience the epic voyage of "Medal of Honor: Allied Assault," players need a system that matches the following minimal requirements:
Operating System: Windows 98/ME/2000/XP
Processor: Pentium III or Athlon
Memory: 128 MB of RAM
Graphics: 32 MB DirectX 8.0a compliant video card
DirectX: Version 8.0a
Hard Drive: 1.2 GB of free space
Sound Card: DirectX 8.0a compliant sound card
Click To Here Free : Download
Game Setup Size : 1.12 GB
Password : SEAofPCGames.com